I'm convincing myself it's summer while it's 35 degrees out.  My three main tactics of doing this are wearing nowhere near the amount of appropriate clothing for the weather (skirts and no gloves and such – get your mind out of the gutter), eating a bunch of fruit (and also avoiding getting scurvy), and listening to OC mixes.  If you are a humble individual, you are able to acknowledge they are smalls works of wonder.  There is something about the pleasant surprise when a mainstream abomination of a soap opera at night for teens you loathe (LOATHE) has sweet mixes with your favorite artists.  I won't lie…The 88's "How Good It Can Be" has gotten me through some tough times….


Was reading yesterday on Gawker about the abomination of prominent media outlets writing about indie artists.  Outlets such as NY Mag and the New Yorker have recently had articles about indie musicians ( i talked about the NY Mag article about Neko Case a few weeks ago) that try to find some deep connection between the artist and some higher meaning.  Frankly, what makes most indie artists great is that they don't care about media coverage or how often they are in the spotlight on a national level.  Half the articles in question are profiles on the artists when they don't have a new album coming out nor going on tour soon.  What you have is a bio about the struggles the artist go through.


Personally? I dont' care about a musician's daddy issues or how they feel insignificant in the universe or that being adored by fans is just "too much."  I want good music that serves as an escapism (i.e. my requent listenings to OC mixes this week — which does have "indie artists")  and that's it.  Also – sorry to get all digital age, but the only time I need to know a brief bio about an artist is during my Airwave slot, and I don't want to look through back articles of the New York Times.  Wikipedia is fine by me.
Steve Rubel has written about the greatest secret of the century — TWITTER IS BLOWING UP! Rubel claims the attraction to twitter is it's disorganization, celebrity following, and you can both be anonymous yet show personality.  In the last month, every time I get a new notification that some one is following my Twitter, it's also the most UN-likely person imaginable from a previous life.  I wonder…why do you…random person from high school….want to follow my tweets talking about pr and how only getting three hours of sleep may not be the best idea?  I often feel obligated to follow some one right back — especially if they know me and where my home is.  Now, I get to follow their tweets about drunken debauchery from many states away.  Awesome.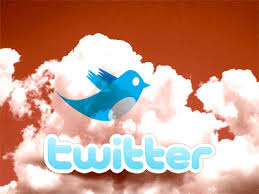 Will Twitter suffer from the annoyance of Facebook, having obscure people follow you, or complete strangers?  Another complete stranger started to follow me this morning – but at least he's cute and has shaggy hair.


I bought tickets for this year's Pitchfork Music Festival in Chicago.  this will be my third year attending.  This year I opted for the three day pass, being convinced by the presence of Yo La Tengo, The Vivian Girls, Grizzly Bear, and The Walkmen on the lineup.  I will be living in Chicago this summer, so I have been itching to see if I could actually intern in the Pitchfork offices (gah how alt and indie of me!).  Sent an email two days ago, haven't heard yet.  I will wait a week until the angry messages start appearing.
I get frustrated when people do not respond to my emails within an hour of sending them out.  I then remember that while I get up at the crack of dawn, they are still sleeping, or they don't have a need to check their email every hour like me, or they are one of those lucky people with wonderful lives of ease.  Do those people exist?